Collaborators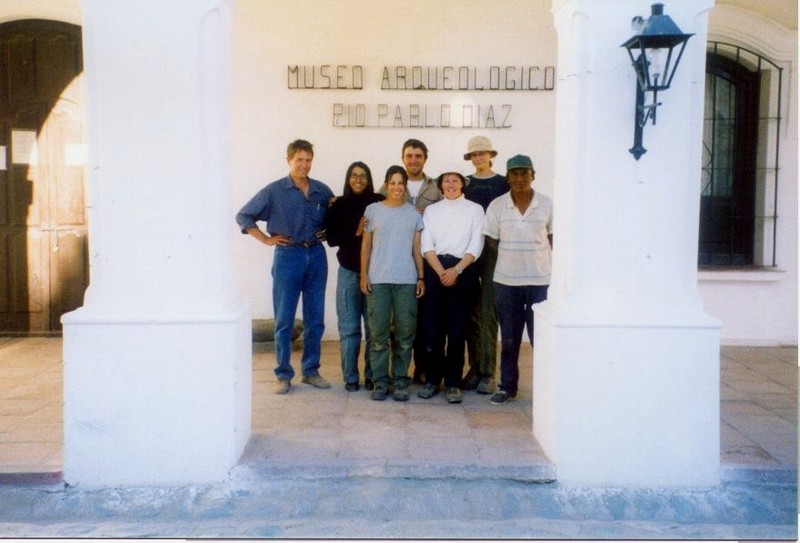 The excavation team in 2005, in front of the Museo Arqueologico de Cachi
The current phase of the research (2003-2009) is directed by Dr Elizabeth DeMarrais (University of Cambridge) and co-directed by Dr Kevin Lane (University of Manchester), who is also conducting independent post-doctoral research in the region. Collaborators in Argentina include Sr. Antonio Mercado, who was until recently the Director of the Museo Arqueológico de Cachi, and students from the Universidad Nacional de Salta and the local school in Cachi. Jennifer Grant, a faunal specialist associated with the Universidad de Buenos Aires, is conducting the faunal analysis.
Marina Baralle is a PhD student in the Department of Archaeology conducting a study of foodways and use of household space, including ceramic residue analysis funded by NERC. Claudia Grimaldo, currently a PhD student at the University of Manchester, ran the laboratory and processed the flotation samples, which have been analysed by Lauren Cadwallader, a former Cambridge undergraduate.
Emma Pomeroy (a former Cambridge undergraduate with an MSc from Southampton in osteology) is currently completing the osteological analysis. Rebecca Bria, a PhD student at Vanderbilt University (USA), and Nicola Sharratt, a PhD student at the University of Illinois, Chicago (USA), also contributed significantly to the fieldwork. Paul Burtenshaw, Rachael Kinley, and Julia Zumstein researched materials from the excavations for their undergraduate dissertations at Cambridge. Many other Cambridge undergraduates have participated in the excavations and laboratory analysis.
The work is conducted under the direction and supervision of the Museo de Antropología de Salta. Permission is kindly granted by the Ministerio de Educación, Provincia de Salta, República Argentina.