This page presents images of Roman and medieval material culture; as we have not extensively excavated Roman and medieval sites, these artifacts come mostly from our field survey.
In questa pagina si presentano immagini di reperti romani e medioevali; con poche eccezioni, non abbiamo scavato sito risalenti a queste epoche, e i reperti ivi presentati provvengono, in generale, di raccolti superficiali dalla ricognizione territoriale.

African Red Slip cooking ware Hayes 23, c. 80-400 /
Ceramica africana da cucina Hayes 23, età flavia al IV sec.

African Red Slip Hayes 52b, c. 300-400 /
Sigillata africana Hayes 52b, IV sec.

African amphora Keay 27b, c. 400-450 /
Anfora africana Keay 27b, prima metà del V sec.

Late Roman Amphora 2, c. 450-600 /
Anfora orientale LRA 2, seconda metà del V sec. al VI sec.

Lamp (lucerna a ciabatta type), c. eighth century /
Lucerna "a ciabatta", VIII sec. circa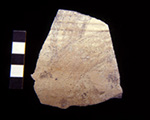 Painted ware, early medieval c. 500-1000 /
Ceramica dipinta altomedievale, VI al X sec.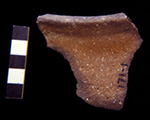 Cooking ware, medieval /
Ceramica da cucina, medievale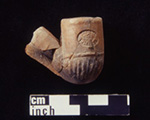 Tobacco pipe, nineteenth century /
Pipa, XIX sec.
© images and text copyright Bova Marina Archaeological Project 2011