Cyprus: Ethnic tension and selective pasts
Venetian Walls, Nicosia
The Cypriot research seeks to delineate the categorisation of sites and practices as 'ethnic heritage' and the repercussions of this categorisation on understandings and practices surrounding cultural heritage.
The research conducted by project partners based at the PRIO Cyprus Centre has provided insight into issues concerning the marginalisation of minority heritage, analysis of the destruction and preservation of sites connected to the two major ethnic groups in the south and north of the island, and the classification of site positioned on the Green Line and their relation to notions of collective heritage. Significant results of this area of project research have related to the exclusion of certain ethnic groups from the interpretation of cultural heritage through the ethnicization of that heritage and its current predominant ideological interpretations and the unintended and paradoxical preservation of certain sites of cultural heritage through abandonment or underdevelopment within some areas.
These case studies include:
i) the Ledra Palace Hotel,
ii) the villages of Kapouti and Alifotes,
iii) the Maronite Language revival, 
iv) case studies on the memorial and anniversary of the Battle of Tylliria at Erenköy
v) the Nicosia Airport.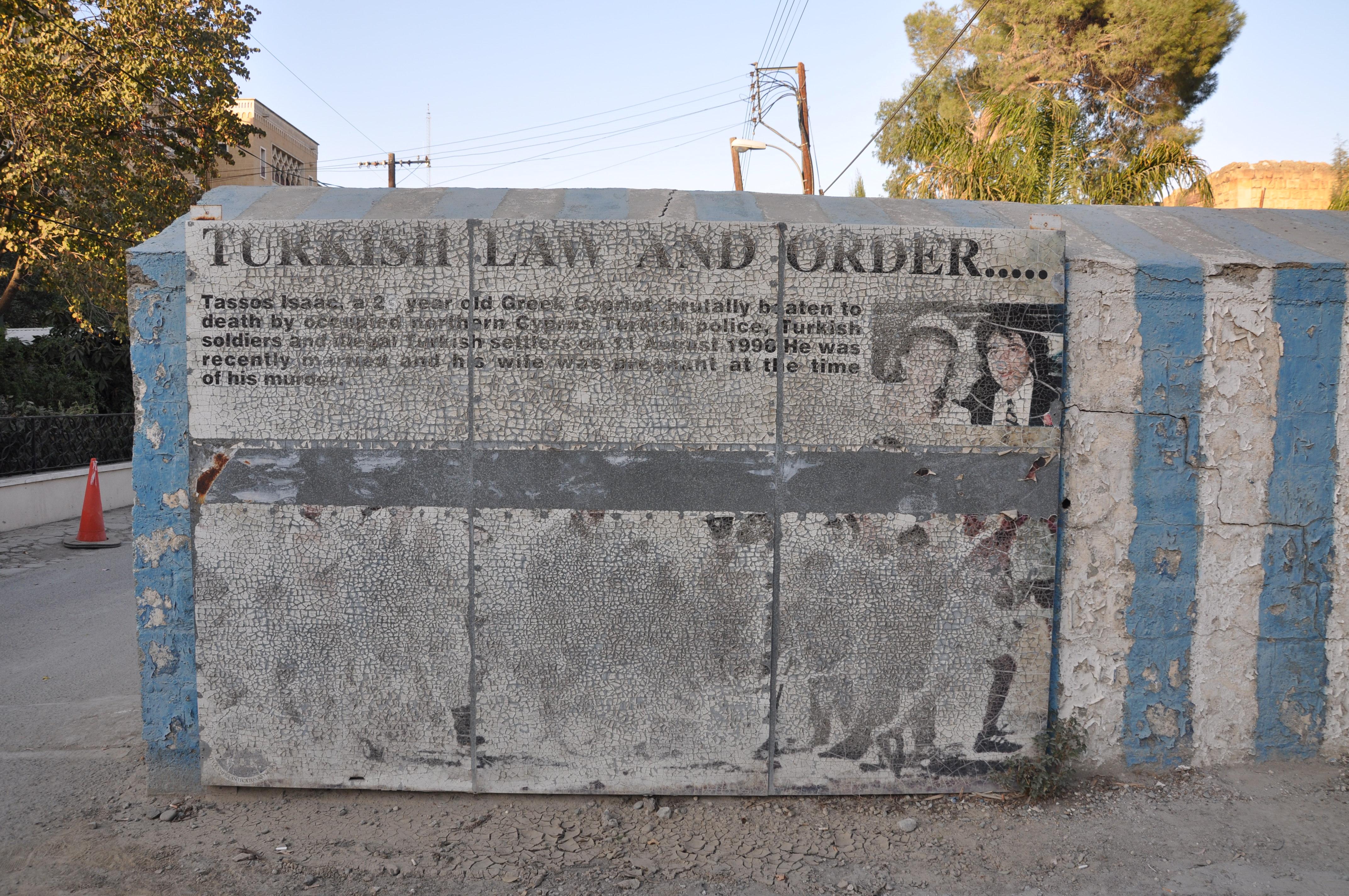 Memorial Wall, Nicoisa
Film and Video
The Third Motherland
This film, produced by Giorgos Kykkou Skordis and Costas Constantinou (of work package 5) asks 'What does it mean to belong to a motherland? How does it feel to be caught in-between different motherlands? What burdens but also what rights and opportunities does belonging to an "other" motherland entail?' Through this documentary they investigate how does ethnic conflict has exacerbate identity problems for small minority communities in Cyprus and how this has impacted their cultural heritage and sense of belonging.
Filmed in Cyprus and Lebanon, The Third Motherland addresses these questions by following the story of the Cypriot Maronite community. The film reveals the dilemmas of identification and belonging and accounts for opposing feelings and beliefs within and beyond the community. Further videos introducing case studies from the CRIC project can be found on the CRIC Youtube channel.
Publications
The research carried out by the Cypriot work package has resulted in several books and journal articles. A selection of these publications is given below:
Constantinou, C. M. and Hatay, M. 2010. 'Cyprus, ethnic conflict and conflicted heritage', Ethnic and Racial Studies, 33: 9: 1600 -1619.
Demetriou, O. 2012. The militarisation of Opulence. International Feminist Journal of Politics, 1-22.
Hatay, M. And Bryant, R. 2011. `Guns and guitars: Simulating sovereignty in a state of siege' American Ethnologist volume 38, no 4.
Hatay, M. and Bryant, R. 2008. 'The Jasmine Scent of Nicosia: On Returns, Revolutions, and the Longing for Forbidden Pasts', Journal of Modern Greek Studies, vol. 26, no. 2.
Other publication from the PRIO Cyprus Centre can be found on their website.
Contact
Costas M. Constantinou
International Peace Research Institute Prio Cyprus Centre Email Homepage
Olga Demetriou
International Peace Research Institute Prio Cyprus Centre Email Homepage
Mete Hatay
International Peace Research Institute Prio Cyprus Centre Email Homepage